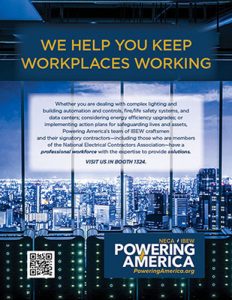 Whether you are dealing with complex lighting and building automation and controls, fire/life safety systems, and data centers; considering energy efficiency upgrades; or implementing action plans for safeguarding lives and assets,
Powering America's team of IBEW craftsmen
and their signatory contractors—including those who are members of the National Electrical Contractors Association—have a professional workforce with the expertise to provide the best and most innovative solutions.
This team offers commitment, craftsmanship, continuity, assures customers will get what they pay for, and that they deliver quality products at fair prices—no matter the type or size of job. They bring excellence to the job and an assurance that electrical contractors and their craftsperson will:
Perform with the special knowledge and experience matched to the project;
Assist with better facility control;
Safeguard lives and assets;
Reduce accidents and injuries and, in turn, reduce costly delays;
Eliminate callbacks and limit change orders; and
Avoid emergencies that bust budgets, or incidents that turn into legal issues.
In addition, the Powering America team pledges to work each day under the Code of Excellence, a formal agreement between labor and contractors that says we will join forces to perform to the absolute highest level of professionalism and productivity on the job. This team will meet or exceed expectations, regardless of the type or size of any project.
Find a Contractor in your area and discuss your electrical or telecom construction or maintenance needs.