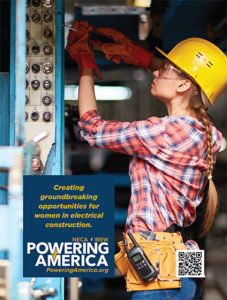 Powering America's team of craftpersons who are members of the International Brotherhood of Electrical Workers (IBEW) and their signatory contractors, including those who are members of the National Electrical Contractors Association (NECA), are proud to be at the forefront of providing opportunities, mentoring, and support to women the electrical construction industry.
Women In NECA (WIN) and the IBEW's International Women's Committee are two of the collaborative forums for women affiliated with NECA chapters and member companies, IBEW Locals and Labor-Management Cooperation Committees. WIN's mission is to attract the next generation of leaders and to promote programs that increase member engagement. The goal is to empower women to become industry leaders, and provide a forum for conversation with peers, industry leaders and innovators.
"It is a place for us to get together and make our voices heard," adds Tanya Neive, representing IBEW Local 304 in Topeka, Kansas.
Tarn Goelling, director of IBEW's Civic and Community Engagement Department, hails these organizations—and ones like GWIC—that provide needed support for women in the construction industry.
Representation matters.
To find out more about opportunities in the electrical construction industry, check out our videos on ElectricTV, read more in our Careers section, or contact us to find the nearest training center.
To find a Powering America contractor to handle your electrical construction needs, use the Find a Contractor search on our site, reach out to one of our Business Development representatives, or contact us for assistance.