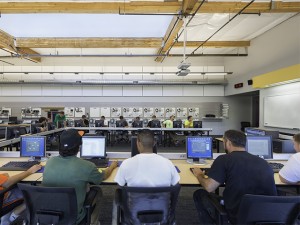 The Powering America team has partnered with the electrical training ALLIANCE for more than 70 years to train the best electrical workers the industry has to offer. Today, the electrical training ALLIANCE has developed into the largest apprenticeship and training program of its kind, having trained over 350,000 apprentices to journeyman status through local affiliate programs. Students in the electrical training ALLIANCE training programs earn while they learn by doing apprenticeships.
Through the electrical training ALLIANCE, the Powering America team has hundreds of local programs offering apprenticeship and training in the following areas:

The electrical training ALLIANCE reaches beyond the textbook, incorporating advanced technology in all aspects of training. Blended learning enables students to continue training remotely, bridging the gap between an apprenticeship and learning in the classroom. The electrical training ALLIANCE encourages training centers to embrace new technologies and offers ongoing technical courses to support all facilities using its curriculum. Since instructors and students can connect virtually, training on the go is easier than ever. Blended Learning also enhances the classroom time as Instructors can spend more time with hands-on instruction rather than going over homework.
To accommodate students and instructors, we have at least one training center in each state. Each of these training centers offers courses uniquely designed for the location. Find a training center near you.

To learn more about training programs offered by the Powering America team,
visit the electrical training ALLIANCE or ConstructYourFuture.com.